"Relics" Show
Sara Saltee assemblages shown at the Brackenwood Gallery, Langley, WA. May 3 - 31, 2014.
These works are now available for purchase in the Art Shop.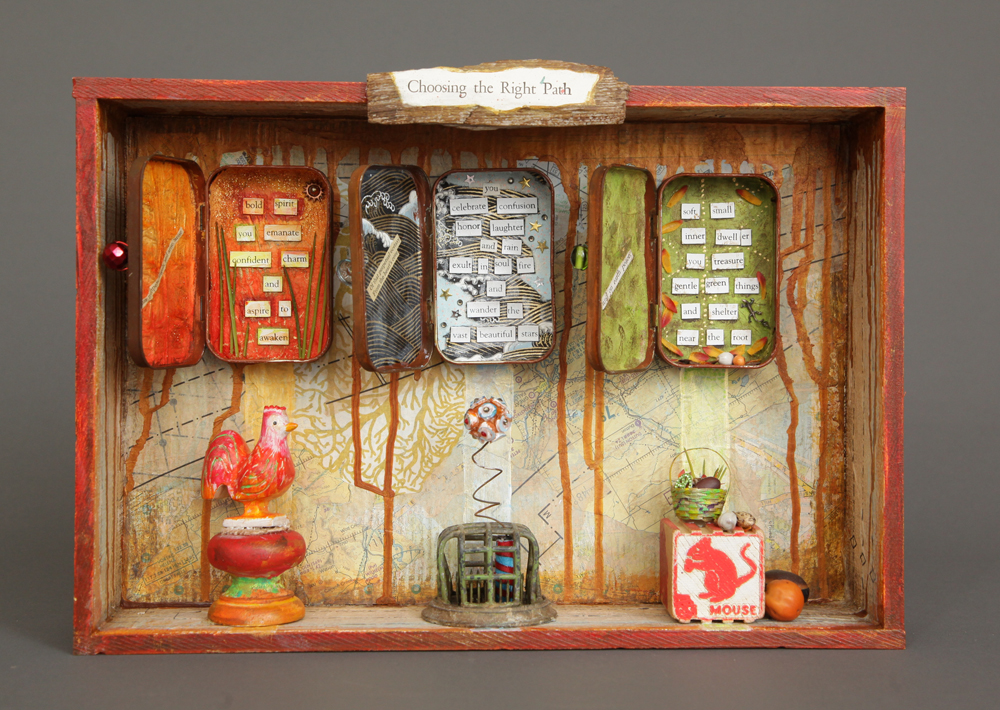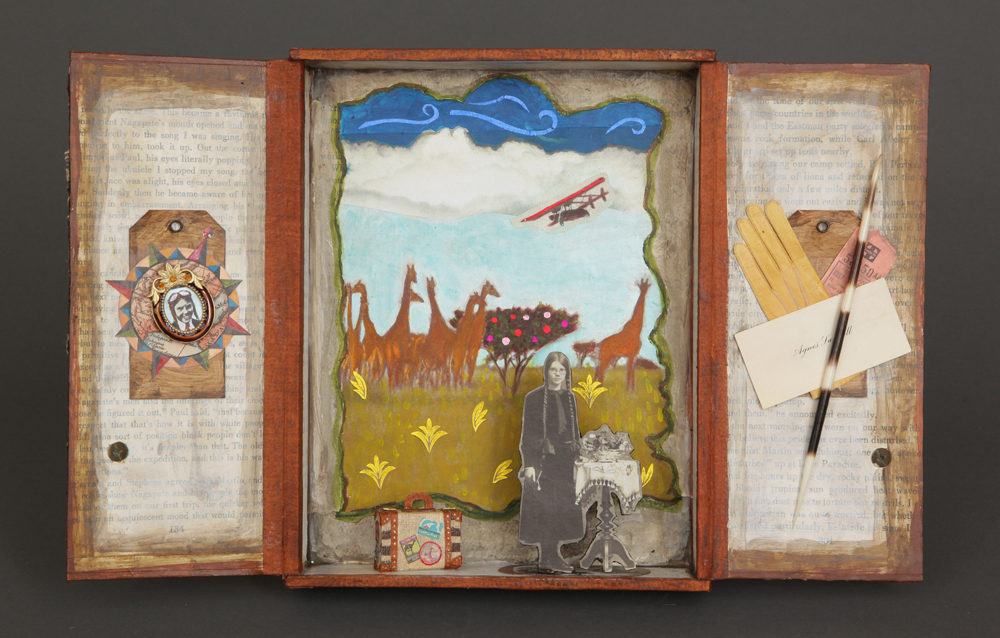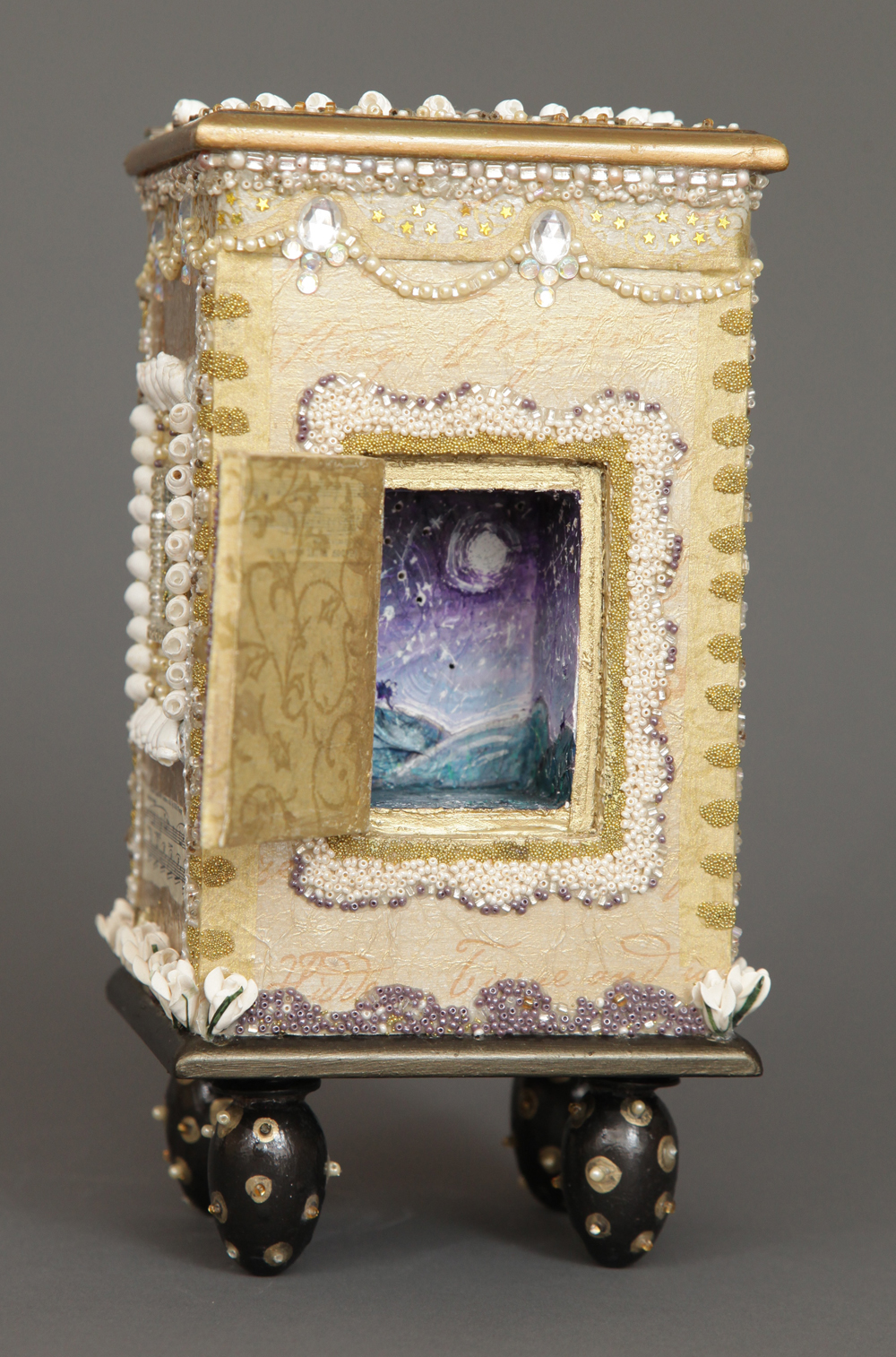 Sara Saltee
On Relics and Reliquaries
Artist statement for the "Relics" show at Brackenwood Gallery May 3 - 31, 2014
April 22, 2014
In a sense, the art form of assemblage is, from the beginning, deeply grounded in reverence for relics. As an assemblage artist, my sensibility is all about engaging with objects and images with a history – placing them in deliberate arrangements so that they can be appreciated instead of cast aside, bringing them into conversation with elements they may not have met before, and inviting them to become part of a new story.
Having said that, the "Relics" theme had a very specific impact on this collection of pieces in a few different ways…
The relics theme led me to ponder the ways in which our own life journeys make relics of us all – simultaneously aging and sacred – and how fragments and parts of ourselves are, like the relic objects in these pieces, engaged in an endless play of "lost and found;" now visible, now hidden, now remembered, and then forgotten again, relegated in the meantime to some dark inner drawer where they wait for the right moment to rise to the surface in hopes of being seen with fresh eyes.
In a more concrete way, "relics" are at work in this collection in that I have deliberately steered toward significantly aged and vintage materials. You'll find old and old-ish elements throughout: from the wooden shoe form in Little Visits With God, to the vintage dental samples that add such a threatening atmosphere to Light Breaks Where No Sun Shines; to the 1960's baby spoons and vintage miniature sterling cups and saucers used in Steward; to the vintage photographs in Our Pearl and Agnes Dreamed of Adventure; and the elements from the 1956 University of Washington yearbook that came together as The Mystery Girls of 1956.
I also had great fun experimenting with aging effects like rusting, and kept an eye on the ground for found objects with a patina of age (you can spot some of the rusty found bits in Light Breaks Where No Sun Shines, and the wire orb in Consulting the Great Carp Oracle was also a random find in a parking lot – a post-Christmas relic!)
The other way the "Relics" theme inspired this collection is through the interesting history of Reliquaries, which are shrines and containers for sacred objects in Buddhist, Christian, and Hindu traditions. My two currently-pregnant sisters moved me to think about the way in which a pregnant mother is herself a reliquary of sorts – an idea explored in Steward and Our Pearl.
The broad historical context of reliquaries also provided the inspiration for Consulting the Great Carp Oracle – a grotto in which our little visitors may find wisdom of a watery kind; The Cabinet Is Formed of Gold – inspired by a William Blake poem about a reliquary of sorts; and Earth Tower which includes four functional drawers, perhaps just the right size for storing small relics of our Earth?